Ireland's invasive species
Species categorized as invasive are done so based on their scoring from risk assessments or listing under relevant regulations. In addition to formal risk assessment exercises, both detailed and rapid risk assessments are undertaken when needed.
The main risk assessment processes that determine our invasive species lists are:
For more information on these see: Risk Assessment – Invasives.ie
Other risk assessment exercises undertaken at the all-Ireland level include:
The main regulations influencing Ireland's invasive species lists are:
the Third Schedule list of the European Communities (Birds and Natural Habitats) Regulations 2011 [S.I.477/2011] – view the 76 listed species
the Invasive Alien Species of Union concern listed under the EU IAS Regulation [1143/2014] – view the 88 listed species
the European Union (Invasive Alien Species) (Freshwater Crayfish) Regulations 2018 [SI 354/2018] – view the 5 listed species
For information on these regulations visit the Legislation and Policy webpage.
Species accounts
Species.biodiversityireland.ie is the National Biodiversity Data Centre's centralized portal to access species accounts with interactive maps. Each of the species profiled are tagged so they can be listed per category.
All species listed as non-native in Ireland are tagged in the Catalogue of Ireland's Non-native species (CINS).  All 66 regulated Invasive Alien Species of Union concern are also listed. If any of the these are considered to be high impact or medium impact invasive species from risk assessment processes, they are also tagged as such. Click on the images below to access the Species Profile browser listing for each species – just scroll down to see the tagged species and click to see their profiles.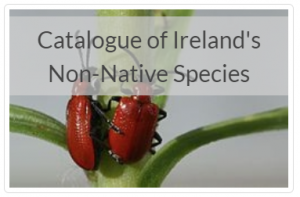 If you just want to search by species name, enter it into the 'Search for a non-native species' box on this website page.